Team: Bella's Boys 2005
For Team: Bella's Boys 2006 see Grease Monkey Racing
Team: Bella's Boys 2005
Last May we (Bellas Boys 2CV Racing Team) appealed for assistance to raise money for Great Ormond Street Hospital by taking part in the 24 hour race at Snetterton. The reaction from everyone was overwhelming......we could have easily sold double the number of Tee-shirts on the day - if only we'd known! But the money kept flowing in right up to the end of this year! I would like to thank all the fellow 2CVers who generously helped us raise over £14,000 for GOSH. I attach a copy of the certificate supplied by Great Ormond Street to prove that we didn't just go down the pub and blow the money!

As many of you know Pete Sparrow and his family have had personal experience of the wonderful work they do at Great Ormond Street, in particular his daughter Bella! The hospital were extremely grateful for the money and invited us to attend a presentation ceremony.

We were due to hand over one of those big cheques to GOSH with a photo of our car in the background but unfortunately our race car was written off at Lydden, one of the last races of the season, so GOSH had to settle for a small cheque albeit with a big total! However Marc Sparrow, Adrian Sparrow, Pete Sparrow and Andy Kinch are working tirelessly to rebuild the car in time for next years race 29th/30th April & 1st May 2006. Next year we are taking a break from the fundraising and are handing over that mantle to a team of girls - Zoë Cardell, Lyn Sparrow and Katrina Sparrow - Team 'Simply the Breast', who will be raising money for Breast Cancer Research, although we will still be giving them a run for their money on the track.

Overall the weekend was the culmination of 5 months hard work, both on the car and writing to potential sponsors for cash; at the same time it was an incredible rush, an event I will never forget! Oh and we finished 8th collecting the novices trophy - what a result!!

Thanks once again to everyone who gave very very generously

Regards

Richard

Richard Knight (Little Rich)
Team Manager, Bellas Boys
AKA Grease Monkey Racing
29.2.2006
---
Team Bellas Boys (Grease Monkey Racing) up well up for next year as poor marc didn't race due to pregnent wife still his own fault!
cheers Andy Kinch
25 June 2005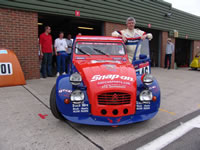 Previously:-
Team: Bella's Boys 2005
(AKA Grease Monkey Racing (GMR))
Ah, 2CV racing, that sounds fun, a 24 hour race – ohhhhhh that would be good………
…………..Someone had this "great idea" – let's buy a tired, fairly knacked old 2CV race car, fix it up a bit, get some race licences and race it in the famous 24 hour race. Thinking that might be a bit easy (yeah, right!) we also decided to set a target of raising £10,000 for Great Ormond Street Children's Hospital.
The annual 2CV 24hour race, now based at the Snetterton circuit, in Norfolk attracts competitors from all over the world and range from BTCC and LeMans drivers to complete beginners (like us). Being one of only 5 European 24 hour races it always get's good media coverage.
We had a lot of help from family and friends (who all claim to have enjoyed themselves!) and had a great time. We managed to smash our target (thanks everyone!) and raised around £14,000 for Great Ormond Street. Oh and we finished 8th and won the novice cup – how's that?
If you've ever fancied racing, get yourself a licence, a team, a car and go for it.
If you'd like to find out how we got on, please click away.
See you at Snetterton 2006!
Grease Monkey Racing AKA "Bella's Boys"
Great Ormond Street Hospital Is Very Close To Our Hearts!
This years chosen charity was Great Ormond Street Hospital for Children and in particular the department which helps relieve the physical and emotional suffering of children with facial disfigurements.
Our grand total of £12,464.00.

Richard Knight 20.12.2005